Hospital
Skagafjörður Health Centre is an integral part of the Icelandic health care system. The Health Center is divided into a hospital department and a health care department. The hospital in Sauðárkrókur, established in 1907, has well-equipped clinical wards and several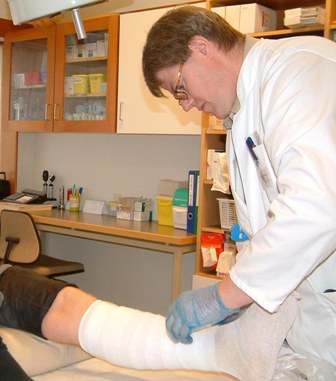 technologically advanced laboratory units.
Physiotherapy
Several physiotherapists operate at the Skagafjörður health center. In addition there is one physiotherapeutic center in the training center of Þreksport in Sauðárkrókur, as well as a physiotherapeutic massage clinic in the town of Sauðárkrókur.
Police
Police station is located in Sauðárkrókur.
Fire prevention and firefighting
The fire department of Skagafjörður has fire stations in three places; Sauðárkrókur, Hofsós and Varmahlíð. The fire department is well equipped with one hydraulic platform truck and five other fire engines. The fire department runs two ambulances for the Icelandic Red Cross. The Fire department of Skagafjörður has about 40 firefighters at hand, well
trained and educated.
Search and rescueThree well equipped search and rescue squadrons are located in Skagafjörður. These squadrons are an integral part of the ICE-SAR search and rescue association. The S&R squadrons in Skagafjörður are specialized in search and rescue on land, both summer and wintertime and the squadron at Sauðárkrókur has also a naval team. Search and rescue squadrons in Iceland are manned by volunteers.