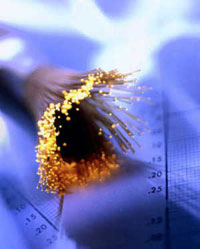 One of the most valuable natural resource Iceland has, is the renewable energy that Icelanders produce with geothermal and hydropower plants. Since Iceland is an island, the possibility
of selling this resource to end users is limited to consumers located in Iceland. With advanced telecommunications networks and reliable connections to the mainland of Europe and America, Iceland has become a feasible option for the location of power consuming data centers. 


Skagafjörður provides optimal locations for Data centers. Not only are there good fiber connections towards the submarine cables that connect Iceland to the rest of the world, but also reliable energy connections and vast amounts of cooling water. With an average temperature in Sauðárkrókur at only 3,1°C (37,5°F),more than 1 degreeCelsius lower than in south Iceland, cooling systems can be designed to be even more economical. About 2% of the workforce in Skagafjörður is working within information technology, with additionally about 1% in supporting industries directly connected to the IT industry, such as repairing and more.
The community in Skagafjörður is adapting to the new information age, by connecting every house in the town of Sauðárkrókur to a locally owned fiber optic grid, thus taking a step towards being a SMART community.
Report that describes Skagafjörður as a location for Datacenter is available here.


---
Average from 40 years, source; Icelandic Meteorological Office