Elementary School
The first level of education in Iceland is preschool, usually for children aged 2-5, although younger children are admitted in some cases. Compulsory school is for the age group 6-16 years. Comprehensive college is usually four years (16-20 years), followed by university. The preschools and compulsory schools are usually run by the municipalities and the colleges and universities by the state.
Schools at all levels are to be found in the Skagafjörður region. Three preschools and three compulsory schools are at five locations, all run by Skagafjörður municipality. We are also proud to say that our elementary schools have constantly been among the best schools in Iceland according to an international survey conducted by the OECD.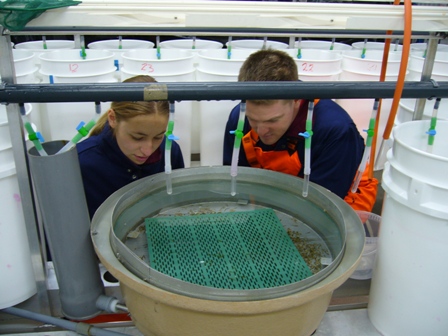 Universities and Colleges
A comprehensive high school is located in the town of Saudarkrokur, educating youth in both vocational studies such as electronics, carpentry and mechanics, and in academic fields as economics, social studies, and science. The school is developing vocational studies in plastics and composites in cooperation with the High tech center of Iceland and Innovation center of Iceland as well as with other European schools which have experience in this field.
The university of Holar offers study in three major fields; Aquaculture & Fish biology, Rural Tourism and Equine Science.
The educational level among the highest in Iceland
The educational level of the Skagafjörður region is the highest in Iceland at a par with Reykjavík area (around 30% of the workforce holds a university degree). This is probably best expressed by the intensity of research and development activities in the area. In Skagafjörður municipality are research centers in as diverse fields as; aquaculture, historical heritage, geology, biology and manmade fibers to name a few.
Research
The science park Verið, in Sauðárkrókur is a center for research and development, mostly focused on biology and aquaculture, providing researchers and entrepreneurs' facilities and equipment for their projects. This science park is the home of the faculty of fish biology and aquaculture at the University of Holar, as well as the location for research and development of companies and institutes as Iceprotein ehf, Aquaplanina as, Matís ohf and others.