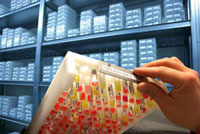 Small but fast growing biotechnology cluster is in Skagafjörður. The presence of Hólaskóli University College in Skagafjörður has stimulated growth of research in biology and biotechnology in the region building a foundation for the branches The University's faculty of aquaculture and fish biology is located in the science park Verið in Sauðárkrókur, where they have research labs and small rearing station.

Several projects within biology and biotechnology are conducted in the area. Branches from the Institute of Freshwater Fisheries and Icelandic Food Research operate in Sauðárkrókur as well as the North West Nature institute, High Tech center of Iceland and the protein plant Iceprotein. Commercial companies as KS coop and ORF genetics are working on several projects in cooperation with previously mentioned companies and the municipality of Skagafjörður in as various fields as composting bio-waste, bio-fuels and enzyme production.

The recent opening of Matís biotechnical research lab in Sauðárkrókur has strengthen this cluster significantly and helps local companies and institutions realize their projects as well as invite non local companies and institutions to conduct their research in good facilities and great atmosphere.